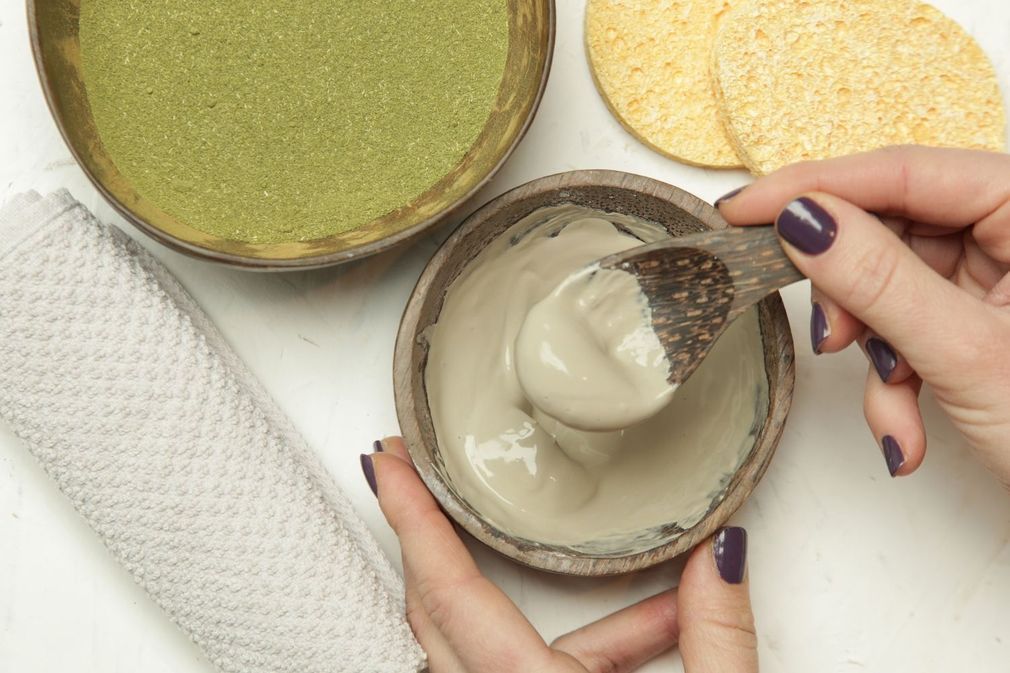 Green clay is a volcanic rock with many benefits. This economical product is very attractive for all it has to offer. It can indeed serve us for almost all problems: for the face, hair, joints and even the house, all of that naturally! Here are 4 possible uses of green clay to support you on a daily basis.
1) A mask for oily hair
Did you wash your hair yesterday, and should it be rewashed today? Washing your lengths too often is not recommended, and can damage your scalp. It would therefore be necessary to space the shampoos, but what to do when your hair is regreasing so quickly? The solution lies in green clay, a real ally in regulating the sebum in your hair.
To make your mask, you will only need a few ingredients. First of all, the main ingredient of the recipe: green clay. Prefer it in powder and take montmorillonite. Mix the same volume of green clay with lukewarm water. You can add two tablespoons of apple cider vinegar which fights against dandruff and which also has the property of purifying the scalp. You can also add a few drops of essential oils to your mixture. We recommend the essential oils of lavender, rosemary, sage, or even ylang-ylang. Once these ingredients are mixed, you will need to obtain a thick paste that you will then apply to your hair, paying particular attention to the roots. Let sit for about 15 minutes before washing your hair.
2) Goodbye oily skin
Your skin is shining despite everything you can do to it, and you are seriously starting to give up? Don't give up and try this mask suitable for oily skin made from green clay instead. The latter will absorb the sebum from your skin, rebalance its production, and help you have more beautiful skin by tightening your pores.
To make this mask, you will need green clay that you dilute with the same amount of lukewarm water. Then, you will add the juice of half a lemon which will help to purify your skin, deeply cleanse it, and clean it. You will also need to add 2 to 3 drops of tea tree essential oil which is an oil known for its purifying, sanitizing, and astringent properties. Leave this mask on for 5 to 10 minutes and rinse it off with lukewarm water. Once your mask is finished, don't forget to apply a moisturizer to your face that will soothe your skin and hydrate it after this attack.
3) Anti-wrinkle
Do you want to fight against the appearance of wrinkles? Green clay is for you! It has a tightening effect, and the mask we offer will help you fight against the appearance of these signs of aging.
Just mix two tablespoons of green clay with one teaspoon of argan oil. Then you will add a cup of hot water to dilute your mixture. Once ready, you can add a few drops of geranium essential oil or a few drops of Damascus rose essential oil. Then apply the mask to your face and leave it on for about 15 to 20 minutes. You should then rinse your little face with lukewarm water, or even cool if possible. This will have a firming effect. Then apply a moisturizer or do a little anti-aging treatment.
4) Against Pain
Have you hurt your back again or that annoying osteoarthritis is back? Don't panic, green clay can save you on this one! You will need to make a poultice and apply it to the painful areas.
To do this, mix about three tablespoons of green clay and two tablespoons of mineral water. Mix the dough well that you will get. Once well diluted, for back pain, heat the preparation slightly in the oven. Once heated, allow it to cool slightly until it is no longer burning on your skin, and apply this poultice to the painful area. Leave the mixture on your back for about an hour, before rinsing the area where the clay has been applied. You can also use this recipe for hand pain caused by osteoarthritis.
Related posts