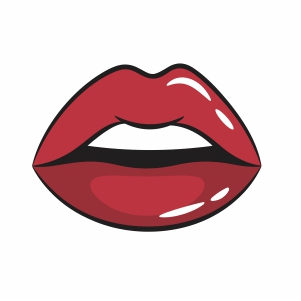 Do you dream of having a greedy and luscious mouth? Well, that's perfectly possible even for the thinnest lips! Indeed, as long as you test the right tips, you can truly plump your mouth without having to resort to surgery and WITHOUT botox injection! Why look elsewhere for what you can achieve yourself naturally and with very few cosmetic products?
Between us, do you really think that all the models in the magazines have a beautiful mouth naturally? They owe it mainly to cosmetics. All the more reason to prick their tips and apply them daily to transform your thin lips into a well-rounded and plump mouth.
1. A lip pencil
First, choose the color of lipstick you are going to wear first. This done, choose a lip liner in the exact same shade. All you have to do is trace the outline of your lips, staying as close to the natural line as possible. Indeed, you must not stray too far from the outline otherwise you risk making too large a demarcation.
2. The corrector
If you don't have a pencil of the same color as your lipstick, apply your cosmetic as usual, then use a concealer a little lighter than your skin color. Using a cotton swab, take a tad of material and redraw the storyteller of your lips. With your fingertips, pat to melt the product into your skin.
This halo which is slightly lighter than your skin will give a rounded impression to your lips. As a result, your mouth will instantly appear fuller. Feel free to apply a little gold-iridescent eyeshadow in your cupid bow to highlight the edges of your lips.
3. Use cinnamon
If you are not a fan of lipstick, you can also try this trick to replenish your mouth naturally. For this, you are going to prepare yourself a cinnamon lip mask.
In a small bowl, mix:
1 teaspoon of cinnamon,
half a spoon of sugar,
a few drops of sweet almond oil.
Apply this paste on your lips then massage for 1 to 2 minutes. Leave on for 5 to 10 minutes before rinsing gently. As you will notice, your lips are instantly plumped. One last stroke of balm and you're done!
4. The ombre
Get inspired by the Ombré Hair technique to hem your thin lips! In fact, the process is super simple. Just choose two lipsticks of the same color but one is 2-3 shades lighter than the other.

Start by applying the lightest product in the center of your lips, sparing their outline. Place the darkest color on the edge of the mouth and then blend the two products together with your finger to create a gradient that is as natural as possible. The contrast between the dark edge and the light center will give fullness to the lips.
5. Choice of Colors
When you have thin lips, always think about choosing soft colors that don't stand out against your face. This technique helps distract from the delicacy of the lips. Always remember to keep a tube of lipgloss on hand and place a touch only on the center of the mouth.
On the other hand, if you really fall for dark colors, apply it by applying the ombré technique.
Related posts