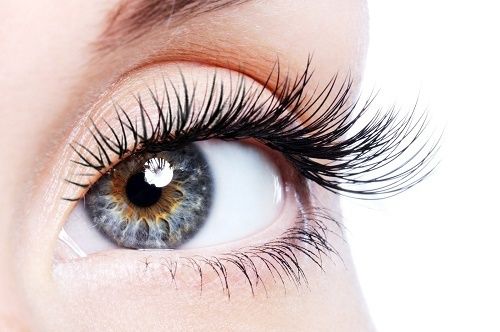 Lengthening eyelashes Eyes are one of the most prominent features of a person's face, and they are the first thing people see. What increases the beauty and charm of the eyes are long thick eyelashes. Therefore, many resort to using artificial eyelashes or mascara, but the growth of eyelashes can be increased to appear longer and thicker using natural home remedies. This substitutes for artificial mascara, and in this article, natural recipes, and tips for lengthening eyelashes.
Naturally Longer Lashes
Of course, there is a genetic aspect to long eyelashes, but that doesn't mean that those without the lucky genes can't increase their eyelash length.
I have a cousin who naturally has super-long dark eyelashes that look like extensions. My eyelashes are decently long but definitely not that dramatic, so I have been experimenting with natural ways to increase my eyelash length and thickness.
There does seem to be a connection between nutrition and hair health, so if a person isn't getting enough fat soluble vitamins, b-vitamins, vitamin C, and collagen, eyelashes (and hair) can suffer.
Overuse of eye products, especially long-lasting mascaras or fake lashes can weaken lashes or lead to lash loss.
Natural Eyelash Extensions?
my homemade mascara , many people asked if there was a natural way to make fiber lash mascara or eyelash extensions. I'm yet to find a natural version of false eyelashes since most glues contain formaldehyde. Most fiber lash products also contain questionable ingredients.
What I did find, however, was a natural way to make lashes look as long as fake lashes using only natural ingredients.
These natural "eyelash extensions" use:
Castor oil – Natural source of Omega-6 fats, proteins, and vitamins that helps encourage dramatic hair growth Emu oil – "highly anti-inflammatory, moisturizing, anti-wrinkle, penetrating, a transdermal carrier, promotes skin regeneration, non-comedogenic (does not clog pores), nourishing, anti-aging and bacteriastatic." ( source Coconut oil Vitamin E oil Castor oil alone would give noticeable results, as it has been extremely helpful for lengthening and thickening my hair , but the addition of emu oil, coconut oil and vitamin E give this serum a wider range of fatty acids and nutrients to help speed eyelash growth.
Christa of The Whole Journey recommends adding 1 drop of lavender essential oil to mascara to speed eyelash growth. I haven't tried this yet, but it could be added to this serum for additional benefit ( just always use caution and do your own research when using essential oils Print Pin 3.94 from 108 votes
Natural recipes for lengthening eyelashes
Many natural recipes are used to lengthen eyelashes, and the following are some of them:
Castor oil
Castor oil has amazing moisturizing properties, and it is also known as a home remedy for lengthening eyelashes, and the method is as follows:
Castor oil.
Apply castor oil to the eyelashes before bed, and leave it overnight.
Repeat this recipe every night; You get the desired results within two weeks.
Shea Butter
If the eyelashes become dry, they become fragile and more likely to break, and shea butter is a wonderful moisturizer that contains vitamin B and vitamin E, which help nourish the eyelashes, and the method is as follows:
Shea Butter.
Cotton sticks.
Apply the shea butter on the eyelashes using cotton sticks, and leave it for 5 minutes.
Rinse the area with cold water.
Repeat the method two to three times a week.
Olive oil
Olive oil nourishes the eyelashes with vitamins and minerals and encourages them to grow, and the method is as follows:
A small amount of olive oil.
Apply a small amount of olive oil to the eyelashes, and leave it overnight.
The recipe is to be repeated every night.
Coconut oil
Coconut oil offers many benefits for eyelashes; It is filled with nourishing ingredients that strengthen the eyelashes and nourish them, and the method is as follows:
Coconut Oil.
Put an amount of coconut oil on the eyelashes using a clean mascara wand.
Note: You must be careful and make sure that coconut oil is not hot before applying it near the eyes.
Egg
It is a great home remedy for encouraging eyelash growth; It is full of protein and vitamins that nourish eyelashes, and the method is as follows:
Ingredients:
One egg.
A tablespoon of glycerin.
How to prepare:
Beat eggs with glycerin; To obtain a smooth mixture.
Apply the mixture on the eyelashes using cotton swabs, and leave it on for 15 minutes.
Note: Regular use of the egg mixture on the eyelashes will give the desired results after two months.
Tips for lengthening eyelashes
There are many tips that must be followed to grow eyelashes, and we will mention some of them below:
Gently caring for eyelashes: It should be known that getting thick and long eyelashes needs to be gently taken care of, as it takes about eight weeks to grow eyelashes, and if one is withdrawn, it will be lost for two months; therefore, you should be careful when removing mascara, and you should not try to rub the eyes.
Maintaining the cleanliness of the eyelashes: The length of the eyelashes can be increased by keeping them clean, as you must make sure to wash the eyes when washing the face and make sure that they are rinsed well as well. So that no soap residue remains on them.
Eating a healthy diet: The diet followed will affect the length and density of eyelashes, but if the diet is not healthy, then the eyelashes will not get the nourishment they need to grow strong and healthy. Therefore, you should eat lots of fresh fruits and vegetables, and lots of protein-rich foods as well.
Eyelid massage: If it is possible to improve blood flow to the eyelashes follicles, this will increase the nutrients that reach them, which helps to encourage the growth of healthy long eyelashes, by gently massaging the eyelids for a few minutes before going to bed, and be careful Well at doing it; To avoid damaging the eyes, or removing eyelashes.
Not using artificial eyelashes: The use of false eyelashes makes real eyelashes light. This is because every time the false eyelashes are removed, the removal of the real eyelashes is done with them; Therefore, it is imperative not to use false eyelashes for a period of 6 to 8 weeks; To give real eyelashes a chance to grow.
Always remove eye makeup: removing make-up before going to bed is essential. Whereas, if the mascara is left on the eyelashes overnight, it is very likely to damage the eyelashes, and may cause an eye infection as well, in addition to that the mascara must be gently removed; So as not to remove the eyelashes with it.
DIY Lash Lengthening Serum
Did you know you don't have to be genetically blessed to get gorgeous lashes?? Sure you can pay for a doctor's visit, get a prescription and pay over $100 bucks for Latisse-which has scary side effect by the way, but why when you can make it yourself??
This DIY eyelash serum contains nourishing and easy to find ingredients that will "feed" your hair follicles naturally! Not only is the serum EASY to make, it also WORKS! Honestly can you really have lashes that are too long or too thick. NO!
OK, this is a fun post! There are actually several recipes floating around the internet for DIY eyelash lengthening and thickening serum. I've researched all the suggested ingredients, done some tweaking and used the serum on myself. The results were surprising and I couldn't be more satisfied!
DIY Eyelash Serum Ingredients:
Castor Oil is the main ingredient in this serum. Castor oil for eyelashes can be extremely beneficial when it comes to growing hair. Castor oil is full of Omega 6 fatty acids, vitamin E and proteins. It is easily absorbed into the hair shaft and locks in nutrients. Using Castor Oil for hair growth dates all the way back to the ancient Egyptians! You can even massage castor oil into your scalp before bed for more hair growth on your head!
Sweet Almond Oil is nourishing and moisturizing to the hair.
Vitamin E is moisturizing and also helps to strengthen the hair. Both Vitamin E and Aloe helps to lengthen the lashes. From the research I have done, it seems like the more you nourish your lashes and brows, the more they grow and thicken. Many different oils have worked for different people but Castor oil always stands out in these recipes.
DIY Eyelash Serum
Fill your container 3/4 full with Castor Oil HERE Fill 1/8 of your container with Sweet Almond Oil HERE Fill 1/8 of your container with Vitamin E Oil HERE Use your serum at night before bed. Wash your face as usual in the morning. This serum's result vary from person to person. Some people see results immediately. I read of one woman's testimonial that she had to stop using the serum because her bottom lashes got too long! REALLY!!??
I have been using this eyelash growth serum for a couple weeks and can see a difference.
Remember that a little goes a long way-you don't want the oil running down your face all night so get a minimal amount on your mascara wand before you apply. You can still see without too much blurriness after you've applied, it's actually very comfortable.
You have nothing to lose with making this DIY eyelash serum. Castor oil for hair growth is an incredibly effective, yet natural method for thickening hair.
You might also be interested in reading my crazy post about lashes ! And if you're more in need of a brow boost, check out my eye brow serum recipe that has filled in all my bald spots!
And if you need an easy DIY mascara remover that will help nourish and detox your eyelashes, I've got you covered!
Related posts