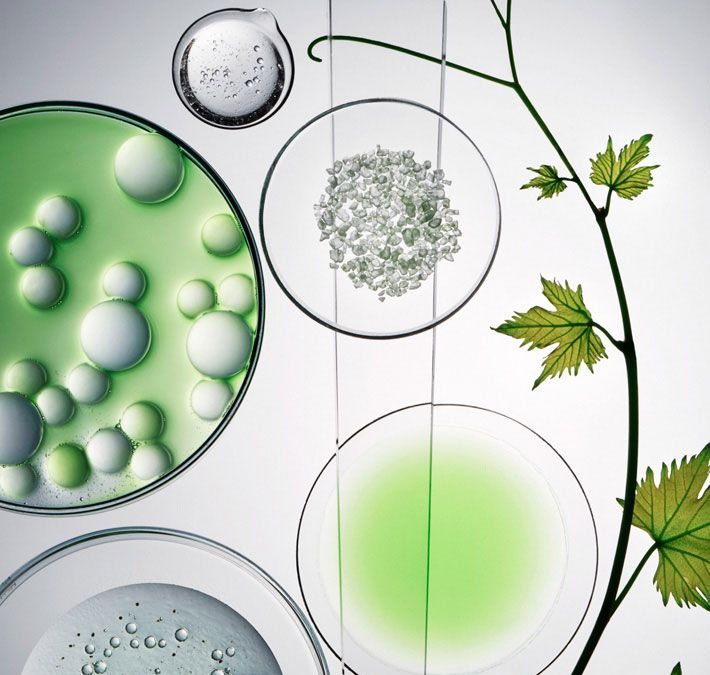 Hygiene and beauty products are supposed to take care of our skin on a daily basis. However, many of them contain components that are harmful to our health.
As a result, turning to natural cosmetics has become a requirement for the informed consumer.
But what are the guarantees of the natural origin of our cosmetic products?
Contraindication: Greenwashing
While the definition of the word cosmetic is regulated, this is not the case for the term natural cosmetic. Without an official framework, manufacturers take advantage of this to abuse the marketing positioning of their products in an unfair manner.
Consequently, greenwashing is invading packaging and advertising posters of falsely "green" products. Faced with these conventional cosmetics, natural cosmetics must be able to recognize themselves by the absence of synthetic substances in their composition.
Security labels
In France, in the absence of a public label for cosmetics, there are private organic labels. They aim to differentiate natural cosmetics from those that abuse greenwashing.
These certifications will guarantee a certain percentage of ingredients of plant origin or from organic farming. However, organic cosmetics can contain up to 5% of authorized synthetic ingredients.
Authenticity guide
In all cases, a product can fall under the category of natural cosmetics if it contains at least 95% of ingredients of natural origin. Thus, any derivative of the petrochemical industry is excluded from its composition.
While organic cosmetics meet public specifications for private labels. We must admit that finding 100% natural cosmetics can be like an obstacle course!
Decipher the list of ingredients
So you might as well start on a good track: the list of ingredients. Even though deciphering the makeup of cosmetics can be complicated, one thing is certain: the shorter, the better! This avoids exposing the skin to allergic reactions due to the cocktail effect of several components. Namely:
logic wants that the components are registered in decreasing numbers. Thus, the less the ingredient is present in the composition, the more you will see it appear at the end of the list. Finally, the natural ingredients are mentioned in Latin followed by a name in English (Butyrospermum parkii butter for shea butter for example). It is important to be able to quickly identify the quality of your products before using them.
Vegetable oils: a safe bet
Among the 100% natural cosmetics, vegetable oils are recognized as crude and pure. They contain plant active ingredients which will act in depth. One of them, the prickly pear seed oil is recognized for its noble character and its many virtues. In addition to being an anti-aging product, this elixir of youth has a restorative effect. Its healing power also acts on stretch marks. It is also an effective treatment for acne. We have to believe that its multiple properties will replace several care creams in the bathroom!
The natural oriental: Orient-All Bio
In the heart of Tunisia, Orient-All Bio reveals its beauty secrets based on the authenticity of its natural cosmetics. In the purest oriental tradition, Orient-All Bio Prickly Pear Seed Oil is produced in a fair trade process. The picking is done manually by women from rural communities. Until packaging, local production is obtained by cold pressing unroasted fig seeds or seeds. Precious and rare, it takes a ton of figs to get a liter of oil! Rich in linoleic acid, it is four times more concentrated in vitamin E than argan oil. After just a few applications, the skin is revitalized and plumped, smoother and fresher. Regular use protects against free radicals and improves the suppleness of the skin. It also helps reduce fine lines, wrinkles, and hyperpigmentation spots.
Tradition as a guarantee
The benefits of this prodigious oil can also be associated with the soothing and firming properties of Oriental-All Organic Pure Rose Water. A product obtained by picking roses, selected by hand, and distilled in an ancestral way via a traditional still. Thus, natural products are recognized by certain ethics in the manufacturing process in order to preserve the authenticity and quality of natural active ingredients. Just like the choice of bottles of Orient-All Bioproducts that reduce product contact with air and light.
Orient-All Bio is the Orient that offers its terroir to the West, delivering throughout Europe, as well as in the French overseas departments and territories and in Quebec. If you want to take advantage of the next great deals for Black Friday, this is the opportunity to give yourself a beautiful box set consisting of prickly pear oil and pure rose water! Or will you try your luck in this week's Beauty Secret Pack Contest Game? Please feel free to leave comments, reviews are a great buying guide too!
Related posts