5 cucumber detox juices to try right away
5 cucumber detox juices to try right away – The skin of the cucumber contains enough fiber to relieve our digestive problems, like acidity and bloating. This is why it is good to consume these detox Cucumber is one of the vegetables that offer a lot of properties and benefits for the human body. Among the nutrients it provides us, we will find:
Vitamins (A, B complex, C)
Antioxidants
Minerals (magnesium, phosphorus, iron, calcium)
Cucumber also has a very low calorific intake, providing only 13 calories per 100 grams.
Plus, cucumber is a great source of hydration. Indeed, 95% of its composition is made of water. Consuming the skin of the cucumber also provides a large amount of dietary fiber.
These characteristics make cucumber one of the most used foods during slimming and cleansing diets.
Read on if you want to learn more and know how to make delicious cucumber detox juices weight loss or cleanse your body.
1. Detox juice with cucumber and pineapple
Pineapple is a fruit that also has a high amount of antioxidants, minerals, and vitamins A and B.
The properties of pineapple, together with those of cucumber, make this preparation an excellent diuretic juice that will help you eliminate toxins that lodge in the body. In addition, this drink with slimming properties will help you reduce your waistline quickly.
Ingredients
1 cucumber
1 cup of pineapple (150 g)
2 tablespoons of honey (50 g)
3 glasses of cold water (600 ml)
Preparation
Wash the cucumber then, without peeling it, cut it into small pieces.
Peel the pineapple then cut it into small pieces.
Then add the ingredients to the blender, add the water and mix for 1 minute.
Then serve in a glass and add the honey.
Drink a glass of this detox smoothie for breakfast, for 1 week.
In order to get the best results, we suggest you do not filter it. This will give you all the benefits of dietary fiber and the effects will be immediate.
How can I be beautiful and attractive
2. Detox juice with cucumber and apple
Likewise, the apple is a fruit that helps lower cholesterol, regulate blood sugar levels, fight gastrointestinal problems, and flush out toxins.
A detox juice with cucumber and apple will not only help you ease your bowel movement but also maintain a healthy and clean body, free of toxins.
Ingredients
1 apple of any color
A cucumber
1 stalk of celery
4 glasses of water (800 ml)
4 tablespoons of honey (100 g)
Preparation
Wash the apple, cucumber, and celery.
Then chop all the ingredients and remove the seeds from the apple.
Add the pieces to a blender, add water and mix until well combined.
Then serve in a cup and add the honey.
Drink between 1 and 2 glasses of this detox juice daily, for 2 weeks.
3. Detox juice with cucumber and tomato
The tomato is also a very interesting food because it is rich in potassium, antioxidants, and fiber, which makes it the ideal companion in the fight against cardiovascular problems as well as to aid digestion.
Therefore, this detox juice of cucumber and tomato, will not only protect you from heart disease but also help your weight loss fast.
Ingredients
1 cucumber
1 red tomato
2 glasses of water (400 ml)
3 tablespoons of honey (75 g)
Preparation
Wash the cucumber and tomato.
Chop them into small pieces then add them to the blender.
Then add the other ingredients and mix until there are no more lumps.
Then transfer the mixture to a container.
You can consume between 1 and 2 glasses of this detox juice daily, for 2 weeks.
4. Detox juice with cucumber and celery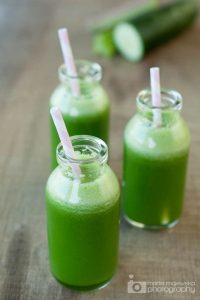 What you need to know about celery is that its most important components, much more than the leaves, are in the stem.
Similar to cucumber, celery is 95% water, which also makes it an excellent diuretic food.
In addition, it also contains antioxidants, vitamins (A and B), and minerals (potassium and calcium).
Celery is commonly used to eliminate fluid retention, prevent inflammation, cleanse the body, and improve liver function.
In addition, celery is also able to fight constipation and promote intestinal transit.
Benefits of Cucumbers
Cucumbers are a great source of vitamin C, which is an antioxidant that helps the body fight free radicals and protect against cancer. It also contains potassium, fiber, folate, magnesium, iron, calcium, phosphorus, copper, manganese, zinc, niacin, thiamine, riboflavin, and pantothenic acid. These nutrients help keep your immune system strong and healthy diet. Tomatoes contain lycopene, which has been proven to reduce the risk of prostate cancer by 50%. They also have high amounts of beta-carotene, folic acid, vitamin A, vitamin K, vitamin E, and many others.
Ingredients
1 cucumber
2 stalks of celery
2 glasses of water (400 ml)
3 tablespoons of honey (75 g)
Preparation
Wash the ingredients well to remove any residual dirt.
Chop them into small pieces then add them to the blender.
Add the water and honey, then mix for 1 minute.
The ideal solution for consuming this detox juice is to drink 1 to 2 glasses on an empty stomach in the morning. In this way, you will be able to absorb all of its nutrients before starting the day.
See also
5. Detox juice with cucumber and aloe vera
aloe vera contains a large number of essential vitamins, minerals, amino acids, and antioxidants which, when mixed with cucumber, also form an excellent natural cleansing juice.
Ingredients
1 cup of pineapple (150 g)
The juice of 3 oranges
1 aloe vera stalk
1 cucumber
Preparation
Wash all the ingredients.
Squeeze the oranges and pour the juice into a blender.
Peel the cucumber, aloe vera, and pineapple and cut them into small pieces.
Add all the ingredients to the blender jar and process until well combined.
Way of consuming
Consume this juice in the evening for 2 weeks.
If you consume these juices, you will notice the changes taking place in your body and your system. You will feel healthier and feel like you have refueled.
However, remember to combine these detox juices with a balanced diet and exercise, this way you will enjoy their best effects.
Cucumber Lemon Water Recipe
Ingredients:
1/2 cup fresh squeezed lemon juice
3 cups cold filtered water
4 medium-sized English cucumbers peeled & sliced into thin rounds
Directions:
In a large pitcher combine the lemon juice with 3 cups of cold filtered water. Add the cucumber slices to the mixture and stir well. Refrigerate for at least 30 minutes before serving chilled or over ice. Enjoy immediately. Makes about 4 servings.
What does green juice do for you?
It's a great way to start your day. It helps cleanse the digestive system and gives us energy throughout the morning. Plus it tastes amazing! I love drinking my greens in the mornings because they give me that extra boost of energy before work or school. They also help keep me full until lunchtime so I don't snack as much during the day.
Ingredients:
1 bunch kale
2 medium-sized cucumbers
3 stalks celery 6 carrots
½ head romaine lettuce
¼ red bell pepper
1 lime
Water
Honey
Salt
Black Pepper
Instructions:
Rinse the vegetables under running water. Remove the stems from the kale leaves and discard them. Chop the remaining parts of the vegetable into bite-size chunks. Peel the skin off the limes using a paring knife. Cut each half into quarters. Juice one-quarter of the lime and set aside. Combine the rest of the ingredients in a high-speed blender and blend until smooth. Pour through a fine-mesh strainer into a glass container. Serve immediately. Store leftovers in the refrigerator for up to 5 days.
How To Make Green Smoothie
Green smoothies are very popular nowadays. This healthy diet vitbeverage can provide many benefits such as weight loss, better digestion, improved immunity, increased energy levels, etc. The main ingredient used in making green smoothies is spinach. Spinach has been proven to be effective against cancer cells.
As a result, the body is able to eliminate toxins and waste products more efficiently.
Cucumbers are also rich in potassium which helps regulate blood pressure levels. They contain high amounts of vitamin C that can help boost your immune system. The miracle juice has been shown to reduce inflammation as well as improve digestion. It's an excellent source of fiber too!
The best way to enjoy this delicious fruit is by juicing it.