Which hairbrush should you use for your hair type?
Choosing the perfect hairbrush for natural hair is just as important as choosing the right shampoo, conditioner, and other products you use on your hair. Many people fail to realize how much hair care goes into having the healthiest hair possible. The type of brush you use will determine a lot about the curl control, volume, and texture of your hair. Choosing a hairbrush that is right for you is like choosing the perfect hair for yourself. Follow these steps and tips to find the right hairbrush for your natural hair type.
1. Choose Your Brush Type:
There are many different types of brushes available in the market today. Some are made specifically for straightening or curling your hair while others are designed for creating curls. You can choose from synthetic, boar bristle, nylon, plastic, and even wooden hairbrush for your hair type. Each one has its own pros and cons so it's best to do some research before buying one.
2. Determine What Style Of Hair You Have:
The first thing you need to decide when choosing a hairbrush is what kind of style you have. For example, if you have curly hair then you would want to buy a brush with soft bristles because they allow more movement than stiff ones. If you have fine hair then you may want to go for a brush with hard bristles since they help create volume. When selecting a brush for your hair type, remember that the softer the bristles the better.
3. Consider Your Budget:
When looking at all the options out there, you may be wondering which one is going to fit your budget. There are many different brands and styles of hairbrushes in the market. It's up to you to figure out which brand and style work for you. However, keep in mind that the higher quality of the brush, the more expensive it usually is. So make sure you know exactly what you want before spending money on a new brush.
4. Know Which Bristle Is Best For You:
Once you know what type of brush you want, you need to consider the type of bristles used. Synthetic bristles are great for smoothing down frizz but they don't hold onto moisture very well. On the other hand, boar bristles are known for their ability to retain moisture. Nylon bristles are good for styling and holding in place. Plastic bristles are great for creating waves and curls.
5. Which hairbrush should you use for your hair type?
1. Paddle Hair Brush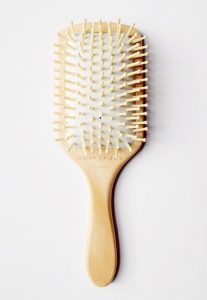 the paddle brush is known for its ability to quickly detangle hair with ease and comfort. Not only does its flat, wide, rectangular surface allow the brush to move with your control but it also provides exceptionally smooth results without breaking the natural pattern of wavy and curly hair.
Keep in mind, paddle brushes are made with different types of bristles. For thick hair, choose a brush with sturdier bristles like nylon and synthetic, which can run smoothly through textured hair. For thin hair, choose a brush that features softer bristles such as boar and boar-nylon blends.
2. Round Hairbrush
round brushes are made with a metal or iconic barrel which heat up when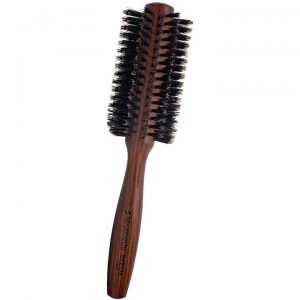 used with a blow dryer (it works pretty much like a curling wand). The round brush helps tame frizz and delivers the desired amount of bounce to your hair. If you have fine to normal hair, we don't recommend using a round brush with a metal or ionic barrel, as it may cause severe heat damage to already weak ends. Instead, we suggest trying something more gentle like a mixed bristle or natural boar round brush.
3. Teasing Hairbrush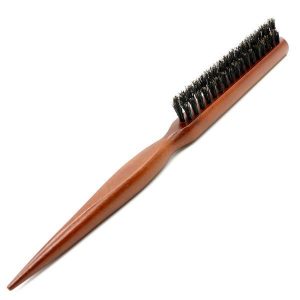 Using a teasing brush is the easiest way to lift your roots to create the illusion of fullness. This brush is perfect for teasing your hair and creating texture to support your lovely updos, adding texture to ponytails, or creating a firm base at the roots when clipping in hair extensions. A teasing brush has long tapered bristles that gently tease away dead skin cells from the scalp and hair shaft.
4. Wide Tooth Comb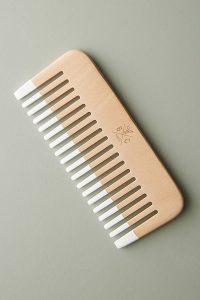 This is the best tool to use to brush wet hair, as wet hair is most prone to breakage.
If you don't already own a wide-tooth comb (although we don't know why you wouldn't), here's why you should: The wide-tooth comb is great for safely combing out wet hair and distributing leave-in hair treatment. If you're a night showerer, run the comb through your hair gently from bottom to top and tie your hair in a loose bun to ensure you won't wake up with morning tangles.
5. Detangling Hairbrush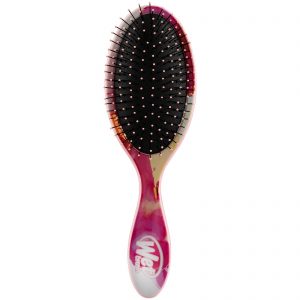 Detangling brushes are typically made with wide-tooth plastic bristles that can easily undo stubborn knots painlessly and easily. Because the bristles are super firm, they can also help add additional volume to dry, fine hair.
See also
6. Rat Tail Comb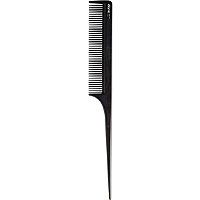 The rat tail comb gets its name from its long and skinny end, which is used to part the hair in precise, clean sections. Next time you want to wear your hair in Double Dutch Braids, part your hair into two equal sections with this hair comb. Believe us, it makes everything so much easier.
7. Curly Hair Brush
Curly hair brushes come in all shapes and sizes, but the classic round brush is still one of the best tools for styling curly hair. 8. Flat Iron
A flat iron is an essential tool for any woman who wants to achieve sleek, straight locks. To get the most out of your flat iron.
9. Bamboo & Wood Comb
Bamboo combs are soft, flexible, durable, and easy to care for. They're also naturally antibacterial and anti-static, making them safe for daily use. They're lightweight and will last for years if cared for properly.
How To Clean A Hairbrush
1. Run the brush under warm water and soap.
2. Rinse thoroughly until no soap residue remains.
3. Let the brush air dry completely.
4. Store in a cool, dark place.
11. Trichology Tools
12. Hot Rollers
13. Blow Dryer
14. Straightening Iron
Why You Should Clean Your Hairbrush
Cleaning your hairbrush for your hair types regularly helps extend its life. If you don't clean your hairbrush often enough, bacteria can build up inside, causing bad smells and unsanitary conditions.