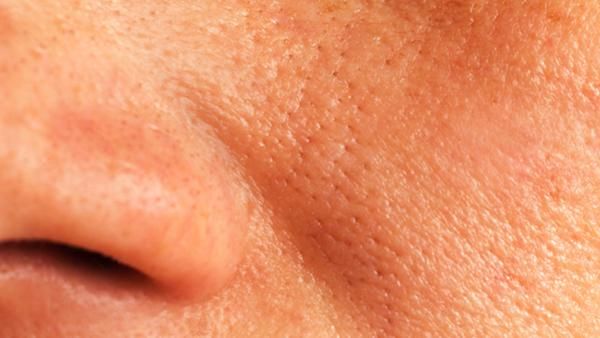 It is very important to take care of your skin every day. Your cream should contain salicylic acid as well as mattifying agents to absorb the sebum from the skin.
Enlarged pores generally concern oily skin. They can expand over the years.
There are many conventional treatments for tightening large pores, but natural remedies, besides being cheaper, are often much more effective!
These natural treatments cleanse the skin, tighten pores, and remove blackheads and spots. We advise you to use them regularly to have healthy skin!
Enlarged pores: the causes
The pores visible on the face are the exit ducts of the internal sebum-producing glands. The action of these glands varies depending on gender, genetics, and age, but also depending on the use of contraception or estrogen in some people.
Oily skin is the main factor behind large pores: the pores normally fill with sebum and they open when they are filled with impurities and dead cells. The size of the sebaceous glands then increases, which also increases the percentage of fat.
Sebum is useful: it gives the skin a certain acidity while hydrating it. As for the dead cells create an acid layer that helps prevent certain infections caused by bacteria, viruses, and fungi.
When the quantity of sebum is too important, the pores dilate, the skin shines and becomes oily. Those affected also tend to develop acne.
The size of enlarged pores depends on the affected area and the concentration of sebum on the skin. In the majority of cases, the nose and, more generally, the areas located in the center of the face are the areas most affected.
There are several natural remedies that can help us tighten large pores.
1. A tablespoon of mayonnaise against large pores
A single tablespoon of mayonnaise applied to the face is sufficient. Leave it on for 20 minutes, and the vinegar and mayonnaise egg will help your pores close while firming the skin.
Do not use this remedy if you have very oily skin!
3. An ancient remedy
Besides being an ancient remedy used to rinse the skin, whey helps decrease the size of large pores.
All you need to do is clean your face every night, then run a soft cotton ball soaked in whey on the skin. Leave it on for twenty minutes, then rinse it off with cold water.
4. A honey-lemon-apple-yogurt mask
You need to mix a tablespoon of yogurt with a grated apple, then add a tablespoon of honey and lemon. The mixture should be homogeneous.
Apply this mixture on the face, then leave on for about fifteen minutes. This preparation softens the skin and is ideal before going to sleep.
5. An almond mask
Crush 1/3 cup of almonds to obtain a powder. Then add water very gradually to make a paste.
Apply this paste on the face starting with the nose, then the areas where the pores are dilated. Leave it on for half an hour, then rinse it off with lukewarm water. This treatment should be carried out at least twice a week.
6. A lemon mask
All you need to do is mix a little lemon juice with water, then apply this solution with a soft cotton ball, avoiding contact with the eyes.
Leave it on for half an hour, then rinse it off with cold water.
7. Papaya
You will first need to clean your face and then rub a piece of papaya without the skin on it.
Leave it on for 15 minutes, then rinse it off with warm water. This remedy is also used to fade freckles!
8. A cucumber-apple-milk-egg mask
Just mix an egg white with a tablespoon of powdered milk. Beat these two ingredients, but be careful: do not lather.
Then add the apple and the grated cucumber. Mix well until you get a smooth paste that you can apply to the face. Leave it on for fifteen minutes, then wash it off with lukewarm water.
9. A clay mask
This mask should be applied once a week, and you will need to prepare it a day in advance. This way, the clay will be able to better suck impurities and sebum from the pores, while absorbing excess fat.
This mask also reduces the size of large pores by purifying them.
10. Lemon drops
Mix a little moisturizer with a few drops of lemon. Mix well, then apply the preparation as if it were a mask.
Leave it on for about 15 minutes, then rinse it off with lukewarm water.
Enlarged pores: some basic recommendations
1. Exfoliation against large pores
This technique helps a lot in tightening large pores. The glycolic acid in exfoliators helps soften the top layer of the epidermis. The pores can thus be purified and their size decreases.
If the skin is very sensitive or acne, it is recommended to use exfoliating enzymes where we will find alpha-hydroxy acids (AHA). Otherwise, the skin could be damaged and bacteria could attack it.
You can also use exfoliators that contain retinol for better cell production, which will help cleanse the inside. But beware: you cannot use this product if you are pregnant.
2. Good hydration
To do away with enlarged pores, avoid products that could dehydrate it. Also, avoid excessive sun exposure and smoking.
Cleanse your face with mild soap. If you wear makeup, remove makeup every night before going to bed to clean your pores.
Use an oil-free moisturizer to cleanse your face every day.
3. Daily care
Treatments for large pores should not contain alcohol.
Hydrate yourself before applying makeup. In addition to salicylic acid, your cream should contain agents that mattify the skin. This will give you softer skin and a better complexion!
4. Microdermabrasion for large pores
This technique is a slightly extreme exfoliation reserved for people who constantly have large pores.
This is a good option for those with mature skin.
5. The laser
Laser treatments should always be considered the ultimate solution because they are very expensive. However, the effects of the laser last longer.
This technique is used in medical spas and private clinics. A ray is directed directly at the skin: it helps eliminate large pores and blemishes.
Related posts