DIY Iridescent Glitter Nail Polish
DIY Iridescent Glitter Nail Polish– Iridescence is a beautiful phenomenon where light refracts off of an object at different angles. It creates a rainbow effect that looks amazing.
I love glitter nail polish because it's fun and festive. However, it can be hard to find a color that doesn't end up looking cheap and tacky after a few days.
Get a Perfect At-Home Manicure in 7 Easy Steps
DIY Iridescent Glitter Nail Polish
I'm a huge fan of the color-changing effect that comes with some glitters, and I wanted to create my own version using regular polishes instead! This is an easy way to make your nails sparkle without spending too much money on expensive products or having to buy multiple colors.
You can use this technique in any shade you want – it doesn't have to be pink like mine is here. The first step was to paint each finger individually so they would all look similar. Then we used acrylic paints for our base coats. The next layer was white which acted as a background for the iridescent part of the design. We then added black dots randomly around the edges of the nail. Finally, we applied two layers of clear topcoat over everything.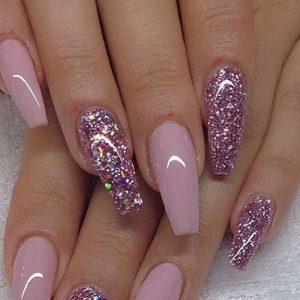 You could also add more than one color if you prefer. For example, you could do red and green together, or blue and yellow. Just remember not to apply them directly onto each other since they will mix when dry. Instead, wait until both sets of colors are completely dry before applying another set.
The best thing about these DIY Iridescent Glitter Polishes? They're super affordable and last forever! If you don't already have a favorite brand of glitter accent nail polish, now might be the time to start shopping around. There are tons of brands out there that offer great quality and reasonable prices. Some even come in cute designs such as hearts and stars.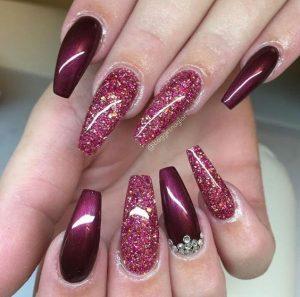 I decided to create my own iridescent glitter nail polish. It's super simple to make and takes only 5 minutes to complete. You'll need:
 1 bottle of regular clear nail polish base
2 bottles of white or silver glitter nail polish
A small paintbrush
Some scissors
An old toothbrush
Step One – Paint your natural nails! Start by painting them in any shade you'd like. Let dry completely before moving on to step two.
Step Two – Mix Up Your Colors! Use the same base coat as usual but add some white or silver glitter into one half of each natural nail. Then use another color for the other half. For example, if you want pink and blue, mix together red and green. If you're using silver glitter, just go with black and white. The more colors you have, the better.
Step Three – Add More Color! Once all four sides are painted, take out the brushes from both halves and start adding more layers of color. This will give your manicure depth and dimension. Keep going until you get the look you desire.
Step Four – Seal It Off! After everything has dried, seal the top layer with a quick-drying topcoat. Make sure not to apply too much though since this could cause bubbling.
See also
Fabulous Ways to Wear Glitter Nails Like a Boss
There is just something about that glitz on your fingertips that puts… The Best of Both Worlds: How To Get The Perfect Manicure And Pedicure At Home With These Simple Tips!
If you're looking for an easy way to get manicures at home, then this post will help you out with some simple tips. You can do it yourself in less than 30 minutes without having to go to a salon or spa. It's so much easier than going to one of those places where they charge $30+ per mani/Pedi 1) Go for a natural look. Instead of getting crazy with sparkles, try doing a subtle gradient instead.
Don't overdo it. Too many polishes can actually turn your manicure into a mess. Stick to three coats max.
Try mixing things up. There are tons of ways to change up your manicure. From changing the type of polish used to creating new designs.
Be patient. When applying nail polish, don't rush through it. Take your time and let it dry properly.
Always test first. Before putting anything on your hands, always test it on a piece of a paper towel first. That way, you won't ruin your expensive manicure.
Cleanse well. Wash your hands thoroughly before starting. Washing your hands helps remove oils and dirt which may affect how the polish applies.
Apply a good quality base coat. Using a high-quality basecoat ensures that your manicure lasts longer.
Choose the right tools. Having the correct tool makes applications faster and easier. So choose wisely.
Avoid clippers. Clipping your cuticles off when removing dead skin cells can damage your nails. Plus, clipping them off while wearing gloves can lead to cuts.
Protect your fingers. While cutting your fingernails, wear disposable latex gloves. They protect against bacteria and germs.
Remove excess polish. As soon as you finish painting your nails, immediately soak your hand under warm water. Doing this removes any leftover polish and cleanses your hands.
 Dry quickly. Never leave wet nails sitting around for long periods of time. Drying your hands slowly allows moisture to seep back into your nails.
Let it sit. Wait 24 hours after finishing your manicure before touching your hands again. This gives your nails enough time to fully cure. If you touch them sooner, you risk damaging your manicure.
Use a topcoat. A top coat seals the final product and protects your manicure from chipping.
Give it a rest. Your manicure should be left alone for two days before washing it off. During this period, allow your nails to breathe.
Repeat. Repetition is key if you want great results. Every week, repeat steps 3-15 above. After six weeks, you'll have mastered the art of DIY manicuring.
Keep track. Keeping track of what products you use each month will make sure you never run out of supplies.
 Make it last. Once every few months, apply a clear topcoat to keep your manicure fresh.
Have fun. Experimenting with different colors and techniques is half the fun of DIY manicuring. Just remember not to take it too seriously.